What do you get the one woman who has everything? That was our dilemma when the girls and I got together to plan what we were going to do for Julz's birthday. Then we thought, something Julz would really love isn't anything you can put in a box and tie a bow on. No, we needed to deliver the intangible. How you ask? With a super-secret surprise birthday party of course!
It all began the night before her birthday, when Olivia had planned to surprise Julz by bringing down her mom and niece, Rin, to ring in her birthday the right way: with family. They snuck down from Tampa to make Julz's 26th birthday the most special one yet. The entire experience could be seen on Julz's Snap, which was a very special experience we were all able to share with her without even being there. Side note: do you know how hard it is to surprise her?! Shout out to Imani for keeping her busy all day.
Don't get tired of the story yet! This is just the beginning. The next day, on Julz's actual birthday, the family all spent the day sunbathing at the 1 Hotel Rooftop – which, by the way, is the best hotel ever. Think Restoration Hardware meets white curtains. A safe haven on the beach for ultimate relaxation. Baby Mel hooked it up with a Presidential Cabana by the pool. What better way to spend your birthday? Olivia even taught Rin how to swim at the pool! She's already a pro.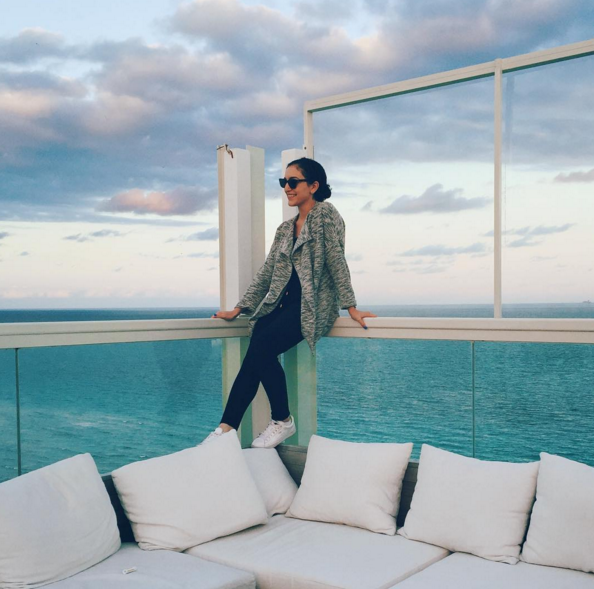 This was my last visit at the 1 Hotel. Safe to say I'm obsessed.
As night rolled around, Rin and Julz's mom set back home to Tampa. Colby had told Julz to get dressed because they had plans, but didn't enclose any other information. Julz was clearly paranoid and knew something was going on, but she didn't know WHAT was about to go down (and we we're so excited for her to find out)!
The girls and I showed up to Texas de Brazil to set up for the surprise that was about to ensue. We put together gift bags, organized her birthday cupcakes, and moved the tables around until the vibes were juuuuust right. The ambiance had to be perfect. Then, anxiety set in. We were so apprehensive for her to come that we kept texting and calling Colby to find out where they were. It was pretty hilarious if I do say so myself.
Then, Imani gets a phone call that they're pulling up. Everyone ran into the private room, shut the lights off, and waited impatiently for Julz to walk in the door. The door opens slightly and Julz is blindfolded. The lights jut on. "SURPRIIIISEEE!!!" we all yelled in unison. Her mouth fell to the floor and she looked like she had just seen a ghost. For once in her life, Julz was speechless! Her first words: "Where am I?!" Mission accomplished!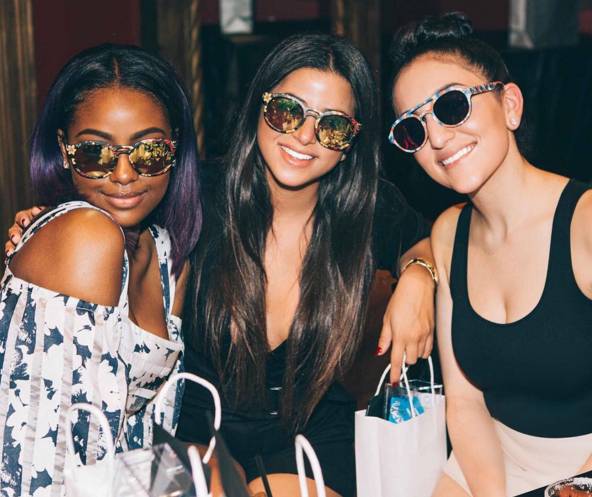 After dining on delicious red meat, lamb chops, and chicken sausage throughout the dinner, we washed our meals down with some pre-game tequila shots. After all, this WAS a YesJulz party. We ordered the Uber XLs and headed out to our first stop: Basement at the Edition Hotel. We may or may not have rolled up to the club 20 girls deep with our new Italia Independent sunglasses we just received in our gift bags. We got to our table, and DZA hit the decks. We spent hours dancing on the couches and having the time of our lives. It was honestly the most fun I had had in a really long time. Talk about the ultimate girl's night out!
Julz was then brought on stage and was told to sit down in a chair. Just as confused as we were, we had no clue what was about to go down. Then, the unthinkable happened! An exotic dancer hit the stage to give Julz the REAL birthday treatment, equipped with a lap dance and some other interesting moves we didn't know what to call. Someone handed Julz a stack of ones, and history was made. Norma Now officially gave Julz the best birthday present ever. It was LEGENDARY.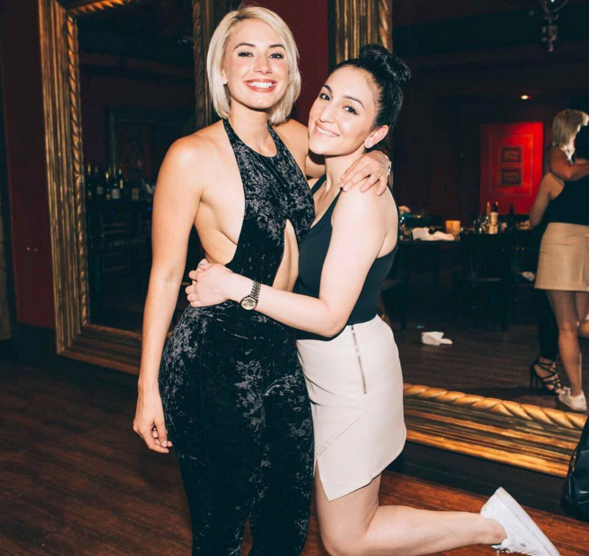 A few more tequila shots, and we were headed to the next stop: Dream. There, we spent another two hours dancing to the music, laughing hysterically, and singing along to our favorite songs. Needless to say, I was having so much fun that I completely disregarded that I had to be at work in just four short hours. After all, this were the moments life is comprised of. I couldn't let the night end just yet!
Julz's Super Top Secret Birthday Celebration was a complete success thanks to many people. We have to give a very special shout out to our guy Jordan Krate, for always capturing our favorite memories for us to cherish for years to come. You're the man. Thank you to Texas de Brazil for the perfect party room and birthday dinner. It couldn't have been better. Also, another special thanks to Olivia for helping us organize everything, the girls for always being reliable, and everyone who showed up to help make this night happen! With love and friendship like this, nothing seems impossible. Cheers to 26! Let's make this the best one yet.