The Blair List has officially added a new video segment!
Now you can go behind the scenes of every OOTD photo shoot through The Blair List's YouTube channel and get an inside look on my outfits! Check out my first video below and scroll down for the latest OOTD photos.
Ripped jeans are a tricky subject. Sometimes they look like they were chewed out by your neighbors dog, and other times, there aren't enough rips. However, when I came across these Guess jeans, I fell in love. I never really wear light colored jeans, but these somehow just fit every top I combine it with. My main rule when shopping goes that "if you can't make three outfits out of it, then don't buy it." Something that has served me – and my bank account- very well for the past few years.
I bought this white rose jacquard top from H&M in Amsterdam, where they have the best fashion. My necklace is a crystal stone holder, where I got to personally choose the stones based off of the energy that they emit. This crystal necklace brings me balance and reminds me to be fully present in the moment. I bought this at Flora Aura boutique in Boca Raton, Florida. If you're ever in that area, you must stop by!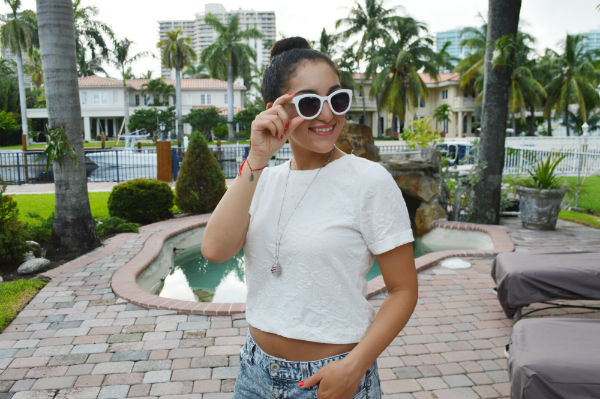 My favorite part about these Guess jeans are the zippers at the bottom. They add a little more edge and versatility. My shoes are from a small boutique that went out of business in New York City. Can you believe I bought these for $25?!
Sunglasses from H&M
T-shirt from H&M
Crystal necklace from Flora Aura
Red bracelet & small necklace from Israel
Shoes from small boutique in NYC that went out of business
Jeans from Guess
Photos & video taken by: Jacqueline Cassuto
Video edited by: Alexis Simone