When I was asked to moderate the Music Industry Panel at Johnson and Wales University in my hometown of Miami, I was nothing short of honored. After attending Revolt Music Conference back in December, I had grown extremely fond of panels. They were informative, inspiring, and eye opening. Plus, what better way to get advice on an industry you're passionate about than the leaders running it? Whoever came up with panels, shout out to you, because you're low key changing the lives of America's youth.
Between you and me, this was my first music industry panel I was ever on. And not only was I speaking on it, but I was moderating it also (meaning I was asking the questions to my fellow panelists at the same time). Talk about nerve wracking! Was I going to pull a Jennifer Lawrence and trip on myself while walking up the stairs? Was I going to forget everyone's names and stutter like I just met Leonardo DiCaprio in person? My mind was racing with ridiculous thoughts of how I was going to mess this up.
Once I came down from my almost-anxiety attack, I accepted the offer. After all, I always say that nothing ever grows in your comfort zone, and it was time to gain a few inches.
One thing I really love about Johnson and Wales University is the specialization the school offers when it comes to different career paths. I can appreciate this because as a graduate from the Fashion Institute of Technology in New York City, I know all about having a tunnel vision on one subject. Not only does it truly show you the truth behind the major you want to pursue, but it gives you the ins and outs from an industry perspective, something that is very rare in today's schooling system.
It Was Time…
Two minutes before heading on stage, I was asked if I would join the conversation at a panelist as well, as the Founder of Ultra Music Festival, Russell, was a last minute no show. "Uhh, yeah… sure," I responded shyly. I peered out to the large crowd in front of me. "All right, Blizzy, let's do the damn thang," I thought to myself.
Once everyone introduced themselves, I realized that I had to pretend there was no one in front of me except the people I was talking to. "Just think of it as a group conversation between the four of you," I kept thinking. Believe it or not, it did the trick! I stopped hyperventilating on whether or not I was prepared (totally was not), and just went with the flow of the conversation.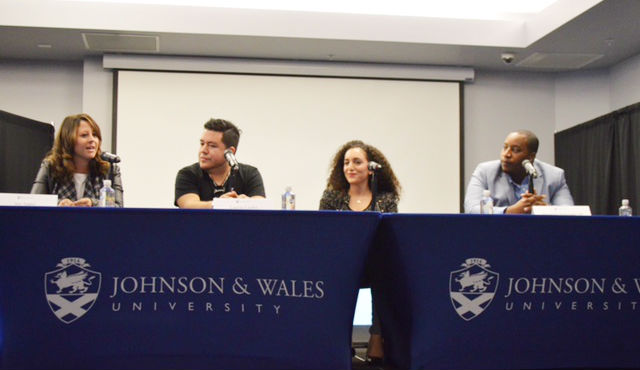 The Music Industry Panel Speakers
Each panelist had amazing insight on everything dealing with the music industry. The first person who spoke was Luccio Luncho, the Miami nightlife DJ turned entrepreneur, who is the brains behind your favorite nights at Space Miami, and the huge Sunset Music Festivals we all know and love. We then had Jen Appel, a fellow boss lady who is the CEO & Publicity Director of the Catalyst Publicity Group based out of Fort Lauderdale. (Side note: she was rocking the coolest pink gemstone necklace EVER). Next was Marshall Freeman, the President of Cr8tive Music Group, where he works with Grammy award winning songwriters, does tour management, and is an all-around boss. I was surrounded by greatness, and it was an amazing feeling.
My favorite part of the panel was the Q&A from the audience. I know firsthand what it was like to be a student hustling towards your dream wanting to soak up any and all inspiration possible from the people around me, so I tried to give the most thoughtful answers possible.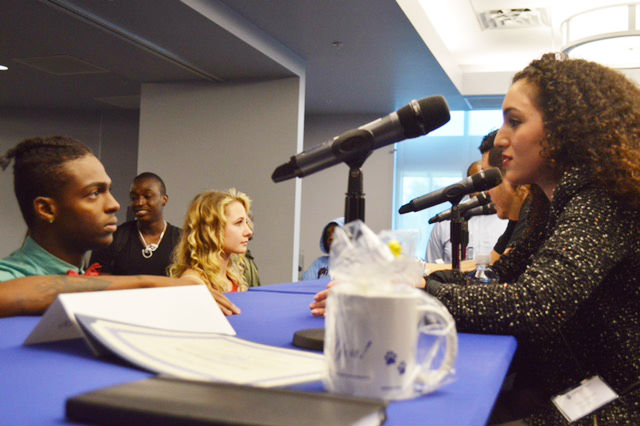 To Sum It Up
All in all, speaking on my first ever music industry panel was an incredible experience. I personally was inspired by the students of Johnson and Wales University more than anything. I could feel their passion and their drive, and to me, that was the best feeling of all. Their willingness to learn and open their minds was astounding. I received some very thoughtful e-mails afterward from some aspiring artists I spoke to, all which I hope to keep in touch with to watch their growth. If you're one of them, feel free to shoot me a message at info@theblairlist.com. I would love to hear from you.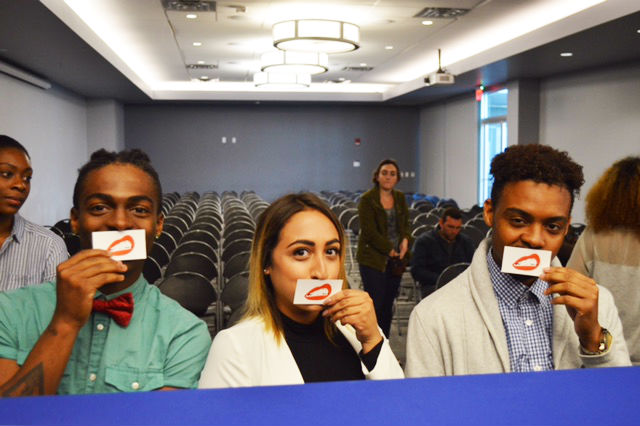 You know I couldn't leave without #BLAIRLISTING some peeps!
Special shout out to my boo Vontay (@AyeYoVontay) for always supporting me and my fam for coming through. Wouldn't have been the same without either of you.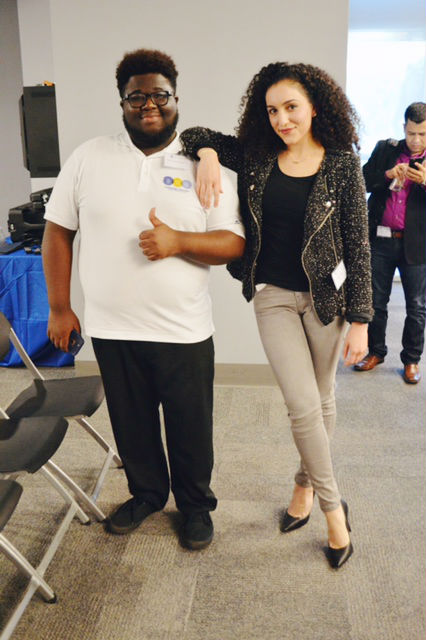 Check out the pictures below for the inside scoop at my first music industry panel!
What I wore: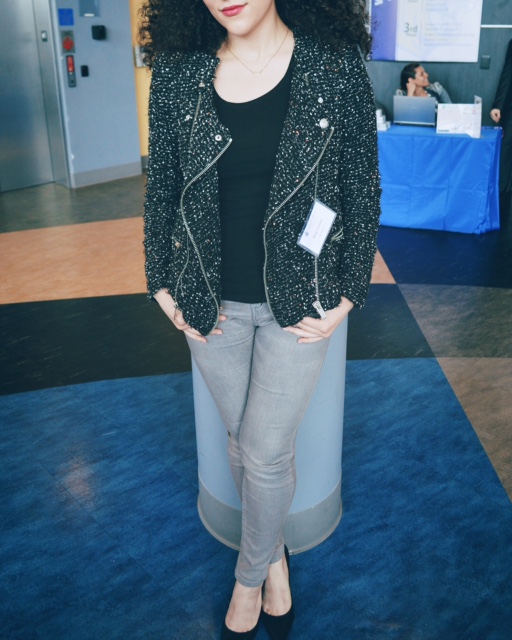 H&M black long sleeve shirt
Zara tweed blaxer
J Brand grey jeans
Jessica Simpson heels
Gems in Vogue necklace
Makeup Forever Lipstick
Photos by Olivia Jade.