I am honored to announce that Mwanel Pierre-Louis is the first person to be officially #BLAIRLISTED. Mwanel paints, designs, illustrates, and draws, pushing the boundaries of art with every masterpiece. He is a true visionary in modern day society.
I was fortunate enough to spend the day with Mwanel in Los Angeles, California to get a feel for the man behind the art. We met up at the most incredible flea market located in The Rose Bowl. This is one of the places where Mwanel gets his inspiration from. With his keen eye and sense of creativity, I watched as Mwanel roamed the racks of vintage t-shirts, varsity jackets, and even old-school home telephones. He gracefully skateboarded around in his Air Jordans and a recently purchased emerald colored plaid shirt. It was as if I was watching an animal in their natural habitat; gravitating towards what spoke to them, in their own world, as if no one was watching.
After learning more about Mwanel's background, I discovered how he got into painting, and how he became the one and only Art Director for Omarion's music label, StarWorld Entertainment, a position he has held for a solid six years. Mwanel explained that he had graduated from The Art Center College of Design in Pasadena, California, with a Bachelors of Fine Arts with a concentration in Illustration. He was always entrenched in the art scene, and people picked up on the fact that he has a different artistic perspective, setting him apart from everyone else in the art world. After seeing his creations, it's only natural for people to fully grasp that Mwanel was born to do this.
Mwanel explained to me that he started doing portraits with faces and making titles around it. "Pretty basic stuff," he explained. "But now, I see myself doing a lot more elaborate, conceptual pieces, pushing the boundaries by putting more research and color into every piece. Now, everything makes a lot more sense in what I do."
I asked Mwanel to describe his style of art, curious to see how an artist like him sees his own pieces. "What I do now are real spacey, pop sensation portraits," he explains. "I like to push the boundary of color and detail, to give a different take on a particular piece." It's safe to say he has done just that.
In August of 2012, Mwanel Pierre-Louis became the illustrator and designer for  Mookee by Yuske, a clothing brand that fuses together the worlds of music, art, and vintage culture. Mwanel has also worked with Jhene Aiko, Marquez Houston, and Grown Azz Kids, among several other creative collaborations.
After leaving the flea market, Mwanel and I went to The Getty Museum. Here, I was able to see Mwanel in his true form, surrounded by Van Gogh paintings, elaborate sculptures, in a setting of vast mountains and endless sunshine.
Mwanel explained to me: "I create because it's the best thing I do for myself. I love to create and to see the end goal. I like to inspire myself and others. I want people to be wowed when they see my art, sort of in a state where they're seeing double, being completely out of the box." Mission accomplished.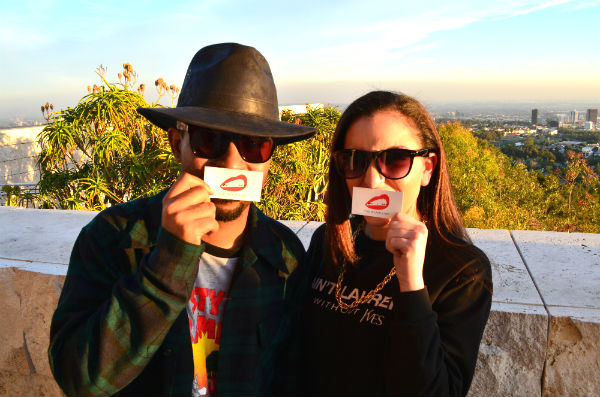 Make sure to check out Mwanel's website, and don't forget to follow him on Instagram and Twitter.
Photos and video by: MVSIC